PAN Amsterdam is the most important national exhibition for art, antiques and design in the Netherlands. Over 125 national and international galleries will exhibit their collections in several different specialities such as paintings, antiques, modern art, photography, jewellery, design and tribal art.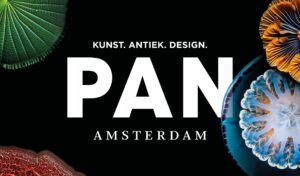 At PAN Amsterdam, you can buy art with confidence. More than 80 independent vetting experts assess the objects before the fair for authenticity, quality and condition.
You can find us at stand no 2, opposite the main entrance.
Pan Amsterdam 2023 will be held from Saturday November 18 (this day by invite only) to Sunday November 26.
Opening 18 November (invitation only)
Sunday 19 November                        11.00 – 18.00
Monday 20 November                        11.00 – 18.00
Tuesday  21 November                      11.00 – 19.00
Wednesday 22 November                 11.00 – 18.00
Thursday 23 November                      11.00 – 18.00
Private Art Evening from 18.30 – 21.30
Friday 24 November                           11.00 – 18.00
Saturday 25 November                      11.00 – 18.00
Sunday 26 November                         11.00 – 18.00
More info on: www.pan.nl